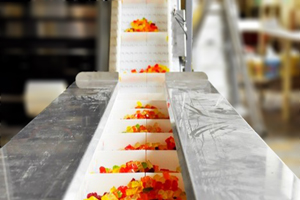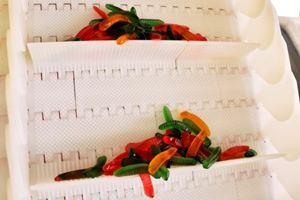 Transport of wine gums
In Czech Republic, we have an Easy to Clean belt conveying sweet, sticky wine gums shaped as worms and bears in an elevator conveyor, equipped with special ribbed flights (where the ribs are on the base as well) and side guards to avoid any loss of products. The project successfully came through by our local distributor on the spot, Rollcontech, who helped this growing Czech candy company finding the right solution.
A great choice for candy is our nub top surface, as well as the ribbed flights, minimizing the contact between belt and product. In this specific case, a strong S.50-838 PE was successfully installed for these mouthwatering colorful gelatin shapes.
Læsøvej 12 • DK-9800 Hjørring • Phone +45 98 90 90 88 • Fax +45 98 90 96 06 • mail@scanbelt.com